Categories
Customer Support
Reseller Task
MOREL TEMPO ULTRA 5x7" 2-WAY SPLITS COMPONENT SPEAKER SYSTEM
Morel designed their Tempo Ultra Series car speakers for car audio fans who want flawless sonic performance with serious power handling.
Code:
TEMPO-ULT572
Brand:
MOREL
As with every Morel speaker, you'll experience a rare level of audio excellence, thanks to their passion for sound and their insistence that every Tempo Ultra speaker be tested to meet their premium standards.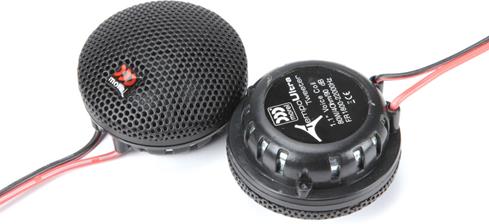 The Tempo Ultra tweeters deliver all the sonic details.
Impactful component sound
Morel's Tempo Ultra 572 component speaker system sports one rugged 5"x7" paper composite woofer — a 1-1/2" voice coil and powerful magnet help give this driver impressive power handling for improved low-frequency performance and minimal distortion. The 1-1/8" soft dome tweeter delivers detailed highs, and Morel also includes a high-quality external crossover to give you an ideal blend of the highs and lows for a powerful stereo image.
Handles up to 110 watts RMS
Morel includes tweeter mounting hardware. This speaker system will handle up to 110 watts RMS, and you'll want to power these components with an aftermarket amplifier for maximum performance.
Grilles are not included; the factory grilles should be suitable for most applications.
Product highlights:
system includes two tweeters, two woofers, and two crossovers
5"x7" component speaker system
treated paper composite woofer cone with butyl rubber surround
soft dome silk tweeter
external crossover
handles up to 110 watts RMS (250 watts peak power)
frequency response: 60-22,000 Hz
sensitivity: 90 dB at 2.83 V
woofer mounting depth: 2-5/8"
tweeter mounting solutions included
grilles not included
What's in the box:
Morel Tempo Ultra 572 owner's manual
Two Woofers
Two Tweeters (with attached 7" length of speaker wire)
2 Crossovers
2 Mesh tweeter grilles (installed)
2 Oval flush mount tweeter housings
2 Round flush mount tweeter housings
2 Flush mount brackets
2 Large angled surface mount tweeter housings
2 Small angled surface mount tweeter housings
Twelve 1" Screws
8 Speed clips
Four 0.187" Crimp-on female quick slides
Four 0.110" Crimp-on female quick slides
Four 0.187" Quick slide insulating covers
Four 0.110" Quick slide insulating covers
Installation guide
Morel window sticker